Suspended Ceilings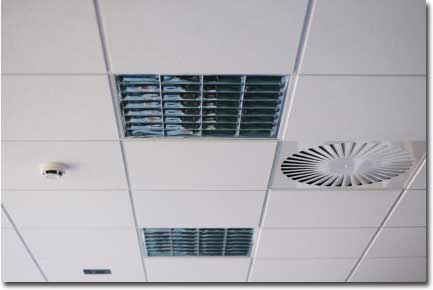 C&L Partitions are specialists in supplying and installing Suspended Ceilings and MF Plasterboard Suspended Ceilings for Commercial, Residential, Retail, Industrial Units plus Hospitals and Schools.
MF Plasterboard Suspended Ceilings are now being utilised in more and more residential units. Alot of new houses are now being built with the first floor consisting of a concrete slab. The MF Plasterboard Ceiling is ideal for creating a desired void above the ceiling to run services (pipes, cables, air conditioning, etc.). Using laser levels, it is perfectly level.
We supply and install a wide variety of grid and tiles from leading brands such as Armstrong, Gypsum, AMF Ceilings.
Professionally installed ceilings will improve fire resistance, sound proofing, heating efficiency.
Suspended Ceilings can hide as well as provide space for service installations such as electrical, A/C, phone cables, pipes, heating and sprinkler systems.
They can be installed to suit any fire safety and acoustical needs.
Ceiling Repairs
C&L Partitions offers top quality and professional labour for all repairs on any ceiling jobs.
Our services include replacing damaged tiles, repairing and restoring all types of ceilings.
We also offer maintenance repairs to all Commercial, Residential, Retail, Industrial, Hospitals and Schools.
>> Please contact us for a free quote